Per essere presente sul nostro portale...
Realizza un sito con
Mosajco
!
Vai su
www.mosajco.com
o clicca sul Banner seguente.
Provalo GRATIS
//?rst=1&dir=//', '_blank');"> //
Per maggiori informazioni puoi contattarci tramite questo form o chiamando al numero verde 800 30 36 40
Use this form to contact us and/or receive more information. Fill in the obligatory fields (*) and specify your request. Our operator will respond in the shortest time possible.
Fields marked with an asterisk (*) are required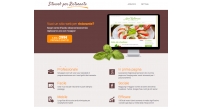 Hai un Ristorante ma non hai un sito web all'altezza?
Il tuo sito web non ti soddisfa? Vorresti avere un sito senza dipendere dal web master o dalla web agency? Con mosajco potrai gestire in autonomia il tuo sito web, caricare le foto del tuo ristorante, inserire il tuo menù o il piatto del giorno e ricevere le pronotazioni nella tua casella di posta. Scopri come è facile ed economico. Clicca su "continua" per scoprire tutti i dettagli